---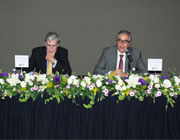 Representing the Mexico National Public Health Institute (INSP) and the Harvard School of Public Health (HSPH), respectively, doctors Mauricio Hernández Ávila and Julio Frenk Mora signed a general cooperation agreement that will benefit students from both institutions.
On Friday, November 9th, at the INSP headquarters in Cuernavaca, Morelos, Mexico, directors, officers and staff attended the signing of the agreement, to witness a the historic milestone for the two leading public health institutions.
Thanks to the collaboration between the HSPH and the INSP, both institutions will benefit from short term student exchange programs, training programs and activities related to their academic programs, long term student research and thesis development, professor collaboration exchange programs and professional development for teachers and researchers, as well as in developing joint research projects and academic programs, to name a few.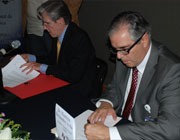 During the formal event, Dr. Mauricio Hernández Ávila, Director General of the INSP, affirmed that under his administration, this agreement is a welcome addition to other agreements that the INSP has formalized with the Association of Schools of Public Health (ASPH) certified university, which is expected to broaden students' educational horizons and strengthen the academic and research relations already established between the two institutions, thus surpassing previous expectations.
"Dr. Hernandez stated, "The agreement formalizes a series of research and academic activities that have long been underway between Harvard and the INSP, such as the Seguro Popular evaluations and studies on the effects of lead, among others."
Meanwhile, the Dean of the Harvard School of Public Health, Dr. Julio Frenk Mora, acknowledged worldwide recognition of the INSP thanks to the leadership that it has developed in education, research, thus translating knowledge to public policy: "these are strengths that place the Institute as an advanced center of excellence in public health training, especially for Spanish-speaking countries."
"The beginning of the relationship between the INSP and Harvard," Dr. Frenk explained, "goes back in time, when the then Dean of the School of Public Health at Harvard, Dr. Harvey Fineberg, took an active part in the advisory committee before and during the forming of the INSP, which continued into its first years of labor."
Thus, this important agreement opens many possibilities that not only benefit students and teachers with new opportunities for academic exchange, but also to rethink higher education in public health in this, its second century of development, both in terms of the concepts and skills, as well as in the means that are available today.
In the words of Dr. Frenk: "we have the ideal platform to enrich and lead the way for public health education to come."
Última actualización:
miércoles 26 agosto 2020 16:46:55 por Webmaster INSP