---
"Pertinent and relevant information on environmental health for Latin America"
The recently created PhD in Environmental Health Sciences offers an academic program consistent with the reality of Latin American countries, with excellence in training researchers capable of analyzing environmental factors that affect population health conditions, while generating useful knowledge that contributes to reducing health risks caused by environmental degradation and pollution.
Currently, environmental factors have a strong relevance to population health: it is estimated that approximately 25% of the total disease burden in Mexico is attributed to environmental factors, such as environmental and indoor air pollution, water scarcity, exposure to pesticides and metals, and the effects of climate change, among others.
The Program Coordinator's perspective
Dr. Horacio Riojas Rodríguez, Coordinator of the Doctorate, considers this program to be a response to the need to train high-level researchers who can generate information to help solve these health problems, as well as a result of the Masters program for training health professionals that the INSP Environmental Health Directorate has been giving for twenty years.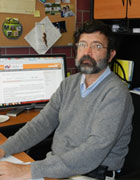 "The Environmental Health Directorate has extensive experience in human resource training through two Master's degrees with specialization in environmental health: one in public health and the other in sciences, the latter being the first of its kind in Mexico.
In addition, we are a WHO Collaborating Centre for research and training human resources, which has provided us with the contacts to required to offer academic exchange opportunities to future doctoral students, so as to project analysis and solutions for related health problems in the region."
Dr. Riojas explains that before opening the Doctorate program, Latin American researchers were consulted to determine the needs of the region, given that the scope of this program is intended to reach all of Latin America and other related international institutions.
"We train high-level researchers to analyze the determinants of environmental health, propose solutions and methods of analysis, and who are prepared to evaluate proposals for intervention. This training is always under a trans-disciplinary and multilevel approach, which includes integrating participants from various disciplines, such as ecologists, economists, epidemiologists, toxicologists, attorneys, among others, and integrating knowledge from the cellular level to its impact on health of social groups."
In addition to the high academic standards, as of the fourth quarter, the PhD in Environmental Health Sciences offers the possibility to study at foreign universities, including Harvard, Emory, UCLA, Fiocruz, among others. Moreover, this academic program is registered in the CONACyT graduate of excellence program, so students can receive a scholarship that is processed once the applicant has been accepted.
If you have questions or are interested in more information, please write to:
Dr. Horacio Riojas Rodríguez, Director of Environmental Health and Coordinador of the PhD in Environmental Health Sciences:
hriojas@insp.mx
Prof. Lorena Castillo Castillo, Head of Academic Affairs:
lecastillo@insp.mx
Última actualización:
miércoles 26 agosto 2020 16:46:55 por Webmaster INSP